Diplomat 116
Cape Town City Centre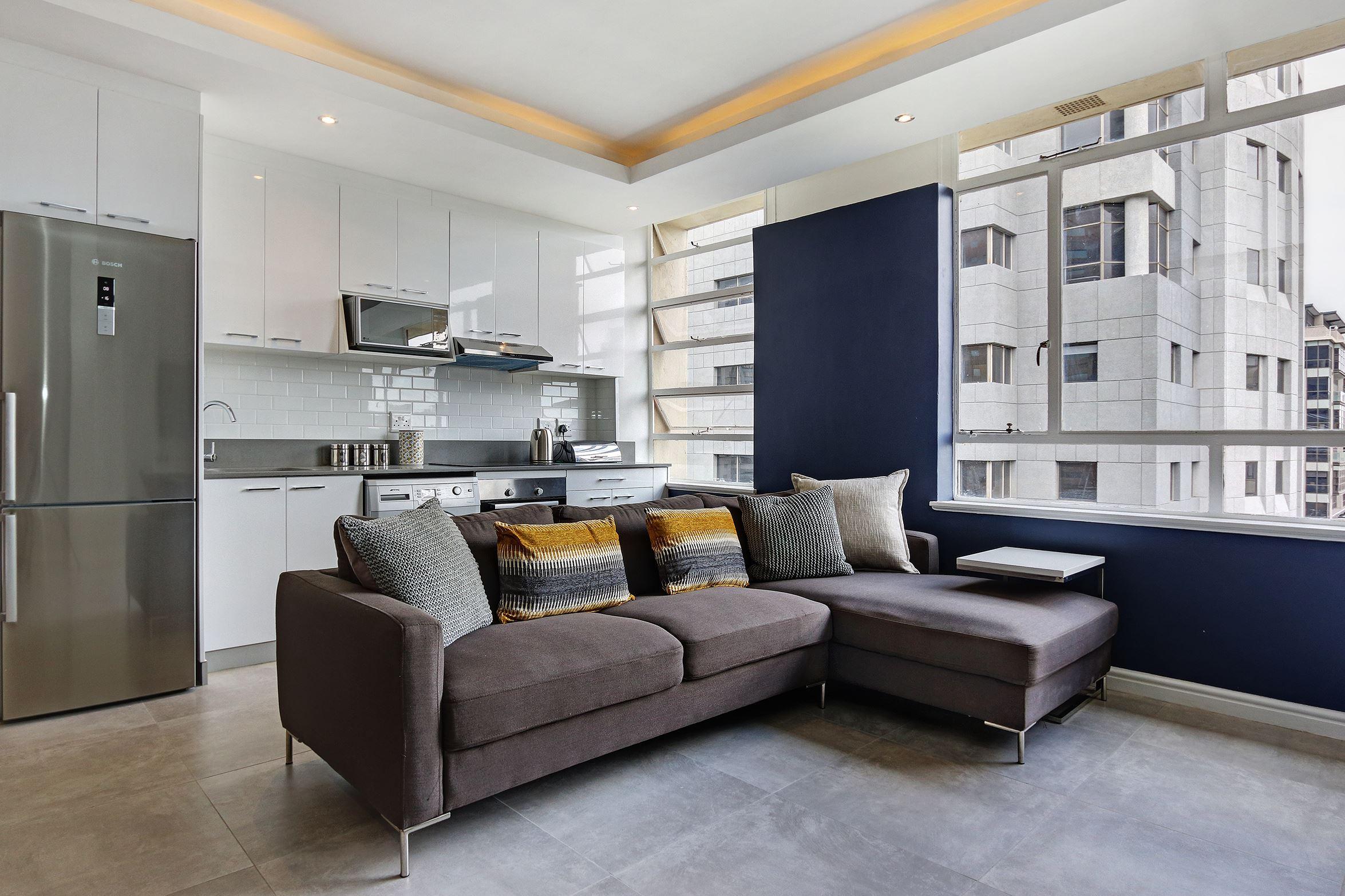 About Diplomat 116
The stylish studio apartment Diplomat 116 is conveniently located in Cape Town City Centre, where guests can mingle with the city and relax in comfort.

The apartment comfortably sleeps two guests in a queen-size bed. The pristine bathroom is fitted with a toilet, basin and a shower. The bedroom has a fan as well as a safe for guest's convenience.

Diplomat 116 has an open-plan layout where a comforting couch and TV can be found with Wi-Fi access. Leading through the lounge is the stainless kitchen equipped with a stove, oven, kettle, microwave, fridge, freezer and a washing machine.

Cape Town City Centre boasts a magnitude of attractions such as The Company Gardens and Greenmarket Square.
Guests staying at Diplomat 116 can stroll down to the various restaurants like The Stratus Room, The Press Club and Hemelhuijs.
Facilities
Laundry Facilities*
Wi-Fi
No Credit Card Facilities
Romantic
Cosy
* Please enquire for further details.
Important Information
Breakages Deposit
4.3.1 The Breakages Deposit will only be used if there is damage to the Premises or where the Body Corporate of the Apartment or Complex building institutes a fine to the owner of the Apartment in lieu of disruptive behaviour by the guest, as described fully in clause 8.1.19 below. The Rental Agent shall scratch the Client's... Breakages Deposit
4.3.1 The Breakages Deposit will only be used if there is damage to the Premises or where the Body Corporate of the Apartment or Complex building institutes a fine to the owner of the Apartment in lieu of disruptive behaviour by the guest, as described fully in clause 8.1.19 below. The Rental Agent shall scratch the Client's credit card prior to the Occupation Period and shall only issue a payment against such scratching in the event that there are damages to the Premises or a fine has been levied for disruptive behaviour.
4.3.2 In the event of damage to the Premises, Clients will be notified in writing within 7 (seven) working days of their departure, following the Occupation Period, together with an invoice specifying the details of any claim. 4.3.3 Damages are not limited to the Breakages Deposit and should any damage to the Premises exceed the R10,000 deposit amount, then the Client agrees that they will be held liable for any additional costs over and above the Breakages Deposit.
4.3.4 In the event of any breakages the Rental Agent will levy an administration fee of R350.00 (three hundred and fifty Rand), which fee is non-refundable and may be deduced from the Breakages Deposit.
4.3.5 Due to the high value investments attaching to the Premises, the risk of lost keys, remote controls and access tags constitute a real security threat and breach, and accordingly any lost keys, remote controls or access tags will entail purchasing and programming these items. The Client agrees that a lost key charge of R1000 will apply and the applicable replacement cost for remote controls and access tags will likewise apply. OCCUPANCY 7.1 The Premises shall be available for occupation strictly between 14h00 - 16h30 on the Occupation Date. Should the Client wish to occupy the premises before this check-in time, they are advised to make special arrangements with the Rental Agent, which special arrangements may require an extra fee. No such special arrangement shall be considered confirmed unless reduced to writing and signed by the Rental Agent.
7.2 If a Client checks in after 18h00, there will be a special fee raised of R500 (five hundred Rand).
7.3 The arrival details and check in form must be forwarded to the Rental Agent prior to the Client's arrival by email (or such other forwarding details as may be advised by the Rental Agent from time to time). Failure to do so will result in unnecessary delays for which the Rental Agent will not be liable.
7.4 The Client must contact the concierge as provided on the Order Form at least 45 (forty-five) minutes prior to their arrival to allow them to open the Premises. Failure to do so may result in a delay of the Premises being opened when the Client arrives.
7.5 Occupants are required to vacate the premises before 11h00 on the day of departure, failing which the Rental Agent has the right to charge the Client for an extra day (or longer where applicable).
7.6 In the event that that any Occupant fails to leave the premises in accordance with clause 7.5 above and causes the Owner and/or Rental Agent to suffer damages, the Rental Agent reserves the right to claim damages from the Client.
OBLIGATIONS AND DUTIES OF THE CLIENT
8.1 The Client and/or other Occupants shall: 8.1.1 only use the Premises for residential accommodation purposes and the parking places only for parking of motor car/s.
8.1.2 keep and maintain the interior of the Premises clean, tidy and in a habitable condition;
8.1.3 take reasonable measures to protect the Premises and all parts thereof (including all fixtures, fittings, appurtenances, appliances and keys) from abuse, damage, destruction and theft.
8.1.4 not place or leave any article or other thing in or about any passage, lift, stairway, pathway, parking garage, or other common part of the Building so as to cause a nuisance or obstruction.
8.1.5 ensure that refuse does not remain on or outside the premises, save in the place provided.
8.1.6 not do anything which could damage the Premises or render any insurance policy in respect of the Premises void or voidable.
8.1.7 not contravene any of the conditions of the title of the Premises or any of the laws, rules or regulations affecting owners, clients or occupiers of the Premises.
8.1.8 abide by the Body Corporate rules and regulations, as stated in the printed copies left in each Premises.
8.1.9 not make any alterations or additions to the premises, nor affix anything to the walls of the premises.
8.1.10 refrain from interfering with the electrical, plumbing, or gas installations or systems serving the Premises or the Building, except as may be necessary to enable the Rental Agent or its duly appointed agent to carry out its obligations of maintenance and repair in terms of the Rental Agreement.
8.1.11 not allow more than the specified persons as per the booking form to reside in the Premises at the same time.
8.1.12 not sublet the whole or any part of the Premises to any third party, nor may the Client cede and/or delegate any of his rights or obligations under the Rental Agreement.
8.1.13 not keep any live animals or birds on the Premises except with the prior written consent of the Rental Agent.
8.1.14 not hang washing in any visible place in or about the Premises, or do or display anything else which causes the Premises to appear unsightly.
8.1.15 take all reasonable measures to prevent blockages and obstructions from occurring in the drains, sewerage pipes and water pipes serving the Premises.
8.1.16 ensure that all lights and appliances are not left on unnecessarily and switched off when leaving the premises. Client is reminded that Cape Town is an energy saving conscious city.
8.1.17 not redecorate the premises unless written permission to do so is received from the Rental Agent or its duly appointed agent.
8.1.18 ensure that all doors and windows are closed and or secured at all times, and that all furniture including but not limited to outdoor chairs and umbrellas are secured and fastened, as Cape Town is a windy city.
8.1.19 not use any tobacco products or allow any other person to use tobacco products in or around the Premises. No cigarette stubs may be discarded in the Premises or on the communal property and stairs, nor be thrown from the Premises windows onto the surrounding Premises.
8.1.20 behave in a manner that is considerate to others. Disruptive behaviour caused by loud music and/or late night or early morning rowdiness will not be tolerated. If the Occupants cause unreasonable annoyance, noise, distress, damage, crime or danger, the Rental Agent has the right to evict the Occupants and impose a fine of R1 500. As read in clause 4.3.1 8.1.21 not arrange any parties or functions without the Owner/Rental Agent's prior consent.
8.1.22 upon departure, hand over all keys (including remote controls) to the Rental Agent or its appointed agent. Any lost keys or keys not returned will result in lock and keys being replaced at the Clients cost and will be deducted from the Breakage Deposit referred to in clause 4.3 above.
8.1.23 allow the Rental Agent/Owner permission to enter the Premises at any reasonable time on 24 (twenty-four) hour notice, to inspect the same in order to view the condition and state of repair thereof.
8.2 The Rental Agent may further in its sole discretion cancel or terminate a Client's booking in respect of the accommodation or any remaining part thereof in the event of any illness or the illegal or incompatible behaviour of the Client. In such circumstances, the Client agrees that they shall not be entitled to any refund. Any extra costs occasioned by such cancellation or termination as provided for in this clause shall be payable by the Client on demand.
8.3 The Client is responsible for the cost of repairing or replacing all interior fixtures and fittings which may become broken or damaged.
8.4 The Client shall bear the costs of unblocking waste pipes/drains/toilet cisterns, if these are blocked and caused by the Client, including (without limitation) by flushing down materials that cause blocking of drains.
8.5 Should the Client break or lose anything belonging to the Owner, they must advise the Rental Agent so that the Rental Agent can arrange for a replacement or repair of the item, which shall be of the same standard and quality as the object lost or broken. The Clients must not try to rectify the problem themselves by either purchasing a replacement themselves or attempting to repair the item. Any item found to have been replaced or repaired by the Client without the express authority of the Rental Agent, in writing, shall be for the account of the Client, notwithstanding that the item has been replaced or repaired.
8.6 As the cost of cleaning is calculated on normal/average cleaning with regards to time and consumables, the Rental Agent can charge the Client an additional amount if the fair usage policy pertaining to cleaning is misused.
5.4 All payments due under the Rental Agreement to the Rental Agent by the Client shall be made free of exchange, deduction or set-off of whatsoever nature by way of cash, direct transfer, forex transfer or by credit card. A surcharge of Card Commission Visa and Mastercard (local): 2.5%Visa and Mastercard (international): 2.95%This applies to Credit Card payments made through this system. The charge is calculated as follows:Amount/97.5%.
5.5 The Client may be required to provide the Rental Agent forthwith, upon making any payment, with written proof thereof in the form of a deposit slip, remittance advice or credit card authorization form.
5.6 The relevant reference number (RN number) for the booking shall at all times be reflected on the proof of payment.
5.7 Credit Card Processing
5.7.1 Detailed description of goods and /or services Mayfair Property Group is a business in the Tourism Industry that manages Self-Catering Apartments.
5.7.2 Delivery policy Subject to availability and receipt of payment, request will be processed within 24hours and the reservation confirmed by email. see more
Click to display the map
Diplomat 116 is 0.9km from the centre of Cape Town City Centre , the nearest airport 20km (Cape Town International Airport).
*Distances are shown as the crow flies and not necessarily the actual travelling